Find Your Coworking Space in San Jose, CA & Surrounding Areas
Satellite Workplaces are a network of comfortable and connected flexible office and coworking spaces in California.

Introducing Virtual Office Memberships + Mail Services
Our Virtual Office Memberships give you access to the same services offered by a traditional, physical office space via your laptop or smartphone. We scan your US Postal Mail. You read it online. Anywhere. Anytime. Plus More.

Buy One Bucket of Hours, Get One Half Off
Need the flexibility to just drop in from time to time, but the privileges of a membership? Our Buckets of Hours are just right for you. And now, save big when you buy two buckets.

As we welcome you back to Satellite Workplaces, we want you to know that we take seriously our responsibility to keep you, our members, friends, staff and clients safe.
Membership Perks & Amenities
Every Satellite location provides all the features you expect in a well-equipped office. Plus, a few you don't.
High-Speed Internet
Rock-solid, reliable broadband network connectivity at all Satellite locations.
Secure 24/7 Access
RFID system and camera monitoring enable 24/7 access and security for all members.

Print, Scan and Fax
Powerful multifunction copiers available with staff assistance for full-service printing.
Mail Services
Get a business address to send and receive mail and packages with our virtual office options.

Event & Meeting Space
Affordable and flexible conference and meeting rooms, with full A/V equipment and hospitality options.
Hospitality
Fully stocked kitchen with free coffee and tea, filtered water and snacks at select locations.

Dog Friendly
Well-behaved dogs are welcome to join our members during their work day.
Fully Accessible
All Satellite locations are fully accessible for people with disabilities.
Community
Skip the isolation and distraction of working from home. Connect locally, even if your work team might be anywhere in the world.
Flexibility
As your work and needs change, move from one type of membership to another. And back again. No long leases or commitments.

Discounts
Great deals on local and global products and services through our shared buying power.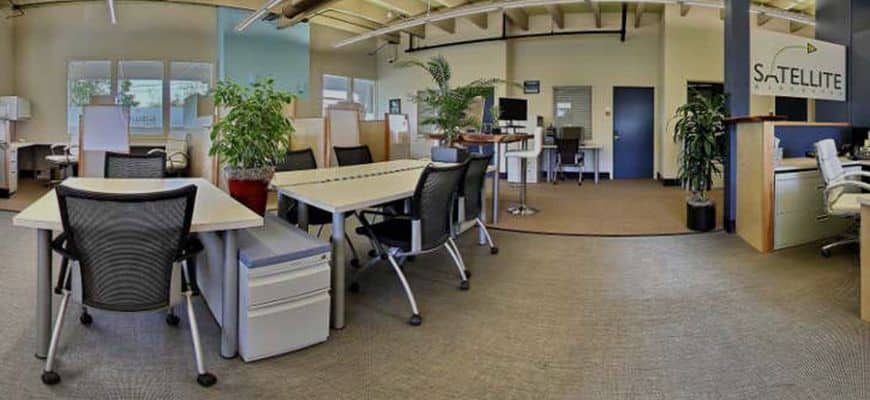 Build Your Own Plan
Small businesses and entrepreneurs have changing needs for office space. We get it. Using Satellite Deskworks, our patented membership management platform, our Community Managers can help you build a plan that's just right.
And then when things change, your plan can change, too.
Choose Your Location to Get Started:
Why Coworking?
Satellite Workplaces offer a comfortable, professional place to connect, to collaborate and to be productive.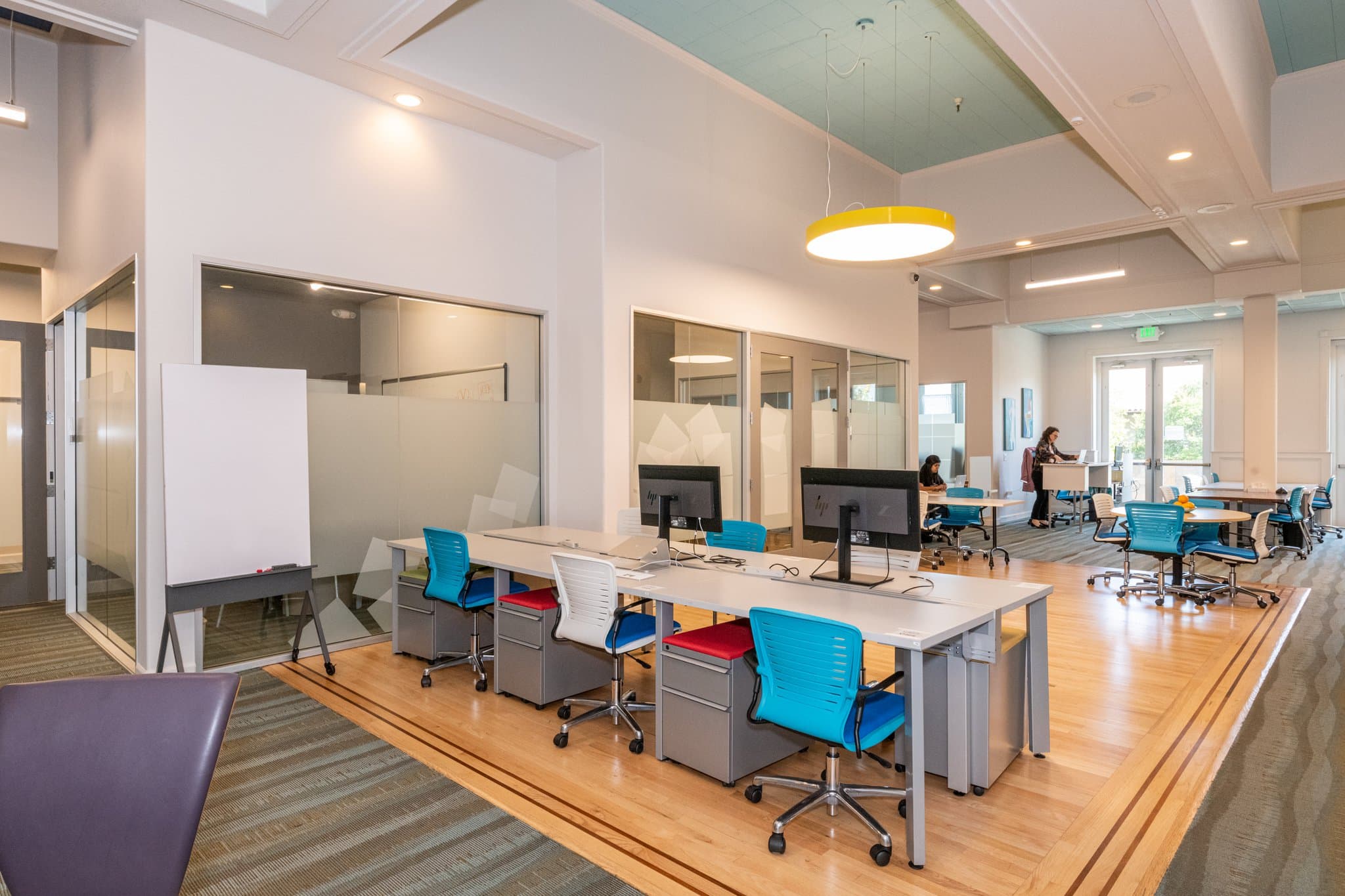 Our patented membership platform enables people to have just what they need on demand and as their needs change. Full time office or a place to drop in? Professional conference room to meet clients weekly or meeting space for monthly community activities?
For companies, membership with Satellite Workplaces helps lower facility costs, reduce attrition and absenteeism, meet environmental sustainability goals and have the flexibility to open in new regions without the hassle of long-term leases.
For individuals, membership means working close to home without the distractions and isolation of working in your home. Our members often find business collaborators who provide fresh perspectives and help elevate their skills.
For our wider world, our members are able to avoid long commutes with traffic gridlock and emissions. Plus, our locations are convenient to locally owned shops and restaurants.
Connect with our growing network to support your growing organization.



Choose Your Tour Location
Please choose a location to request a tour. On the next page, you will be able to book into our calendar and leave your information.
Choose Your Time and Date
Satellite Workplaces Campbell
1875 S. Bascom Ave, Suite 2400, Campbell, CA 95008
Choose Your Time and Date
Satellite Workplaces Felton
6265 Hwy 9, Felton, CA 95018
Choose Your Time and Date
Satellite Workplaces Los Gatos
20 S. Santa Cruz Ave, #300, Los Gatos, CA 95030
Choose Your Time and Date
Satellite Workplaces Sunnyvale
100 S. Murphy Ave, Suite 200, Sunnyvale, CA 94086